Septic System Installation In Ophir, CA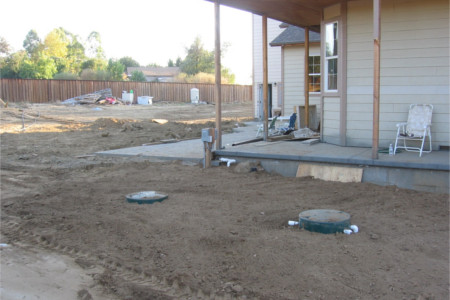 Installing a septic system on a piece of flat land is easy. But when the house you've built is on solid rock, it can make things.... let's just say...challenging. Ophir is located in Placer County, California. It sits on the foothills of the Sierra Nevada Mountains. This is Gold Country. Finding the perfect build site for your new home can be difficult. And sometimes, no matter what you do, you end up building on rock.
That's what happened to our first Hoot homeowners in 2007. They loved the lot they chose for their new home, but had no idea that it was sitting on rock. After assessing the site with a septic designer for their septic system, it became clear that the only way to build their dream home was to work out a land deal with the neighbor for their leach field.
They met with their neighbor and were granted permission to use the required area. But after the house was built, the homeowners were saddened and dismayed when the deal was rescinded by the new owner of the neighboring lot who planned to use the area for a barn.
With the prior agreement, their site had been approved for a pressure dose septic system. Now, due to the lack of available soil for the dispersal system, nothing was currently approved for their situation.
The house was already built and almost ready to be moved into. It was beautiful. But, because they had no viable land available for the leach field, they had no septic system. The new home was not inhabitable.
However, unbeknownst to the homeowners, Placer County Environmental Health had recently approved the Hoot Septic Treatment System for experimental use. Hoot Systems, Inc. in Lake Charles, Louisiana, with over 40 years of wastewater treatment experience, created the Hoot Aerobic Treatment System that is designed for extreme environmental conditions. It reduces DBOD5 and TSS by 99%, using a much smaller field for the effluent.
After some investigation and design adjustments, Jim Barnard, the homeowners' septic designer, felt comfortable approaching his clients with this solution. The new design, utilizing a Complete One Tank H-600 Septic Treatment System with Geoflow Drip tubing, reduced the necessary size of the field significantly. The new neighbor was able to build his barn and still allow the septic easement for the homeowners to complete their septic system and finally move into their home.