Hoot Commercial and Municipal Wastewater Treatment Systems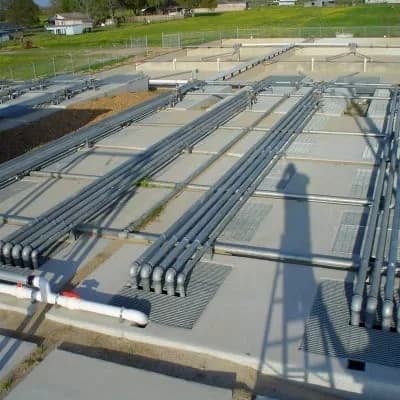 We bring over 30 years of knowledge and experience to the Commercial and Municipal Wastewater Treatment industry. Superior On-Site Solutions and Hoot Treatment Systems have a solution that fits your septic needs.
Very few commercial wastewater treatment systems meet California's state standards. We exceeded them! As well as offering a true "operator controlled" wastewater treatment plant. One that includes adjustments to Aeration, Re-circulation Rates, Sludge, Clarifier Return, and other parameters.
Are you in need of commercial or municipal wastewater solutions for your local property? If so, give our septic treatment specialists a call today.
Hoot Commercial Extended Aeration
Hoot's Extended Aeration technology uses coarse or fine air. In addition, the air can be monitored by Dissolved Oxygen Sensors and controlled by Variable Frequency Drives (VFD). These systems are typically designed for applications at or below secondary standards, with a typical limit of no less than 15/15 mg/L on BOD/TSS.
Hoot Commercial Media Treatment System
By combining the efficiency of Extended Aeration and the resilience of Fixed Media. We achieved Total Nitrogen Reduction in excess of 50%, and reliably below 20mg/L. Using dissolved oxygen sensor(s) attached to intelligent VFD's to monitor the fine air diffusion, so it only provides the air needed for the treatment process. All of this is accomplished without the use of additional chemicals. This is (based on typical average influent balance and a Carbon to Nitrogen Ration of at least 3 to 1). Appropriately designed and operated BOD/TSS discharge standards of 10/10 mg/L can be met.
Hoot Commercial MTS+ANR
In order to create an application where Total Nitrogen requirements or Nitrate are at or below 10 mg/L or the carbon to nitrogen balance of the influent is below 3 to 1. We combine our MTS Technology and our Patented ANR (Advanced Nitrogen Reduction) process.
Hoot Commercial Tech
Hoot-Tech Aero-Rotor is an Integrated Fixed-Film Activated Sludge (IFAS) technology with Mechanical Aerator, not an RBC. Used for septic applications that begin out in the 50,000+ GPD range. This technology has a reduced footprint and a very young sludge age. Using Dissolved Oxygen Sensors and VFD's, we control the speed up and slowdown of the systems. As well as speeding up the mechanical aeration process. This system requires a minimal footprint (6 hours average retention vs. standard 24) compared to other septic technologies. The operation is silent and is very energy efficient.
Hoot -CMBR
The final step of a complete Commercial Hoot Treatment System, Hoot CMBR, is primarily used as a polishing filter. This allows the effluent to be used as a direct discharge or to re-use within the structures, for example, flushing the toilet. In addition, CMBR can be used as an additional treatment for systems that are out of compliance due to changing discharge standards or flows greater than expected.
How do you determine which process or combination of processes best suits the needs of your site? To assist us, download and submit our design survey. We will contact you to arrange a personal (in person or online) presentation.
Recent Articles & Tips
When To Get Septic System Repaired

Your septic system goes underground, so it can be easy to overlook any problems it's experiencing, but that doesn't mean its problems aren't serious, nor does it mean that you can't detect problems w […]

What Causes Septic Backup

You might know the most common sign of septic system problems: the presence of wastewater in your home or yard. But do you know the reasons for your septic system backing up? There are a number of re […]