Recycle Your Wastewater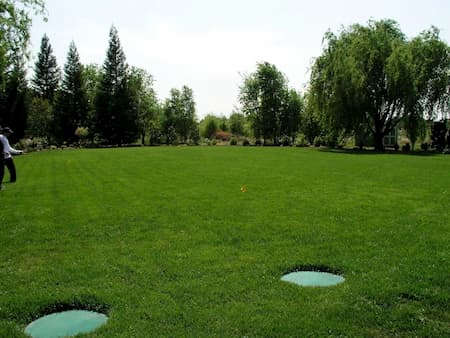 Hoot Aerobic Septic Treatment Can Help Keep Your Yard Green
California has always been open to creative ways to protect our environment. However, protecting the watershed is also of vital importance. We suggest using the treated wastewater (effluent) from the Hoot Aerobic Septic Treatment System to assist in watering your landscaping on your property. Are you looking for wastewater recycling solutions for your property? If so, give our team of septic treatment pros a call today.
Although there are many discharge methods, not all are available or appropriate for your site or County requirements. We recommend using GeoFlow Drip Tubing in California.
Drip dispersal delivers the treated wastewater from the tank back into the environment, like trees and other landscaping. It is a universal and flexible method of distribution.
Installation takes place 6-12 inches below the ground, in the beneficial root zone of grass and other ground coverings. Areas that are nitrogen sensitive, an uptake of an additional 25% of nitrogen, can be achieved. Even when exposed, the ground cover is dormant.
Treated wastewater is filtered and then discharged through tubing that is ½ inch tall. A reduced height, which is 6 to 18 inches lower in profile than most other drain fields. The reduction in system height can reduce or even eliminate the need for mounds. It maintains a larger vertical separation to limit soil layers and groundwater. Treated water is dispersed evenly throughout the entire drain fields. Unlike gravity systems, which intensively load the front of drain fields, leading to a creeping failure effect.
Recent Articles & Tips
When To Get Septic System Repaired

Your septic system goes underground, so it can be easy to overlook any problems it's experiencing, but that doesn't mean its problems aren't serious, nor does it mean that you can't detect problems w […]

What Causes Septic Backup

You might know the most common sign of septic system problems: the presence of wastewater in your home or yard. But do you know the reasons for your septic system backing up? There are a number of re […]