Traffic Rated Septic Treatment Systems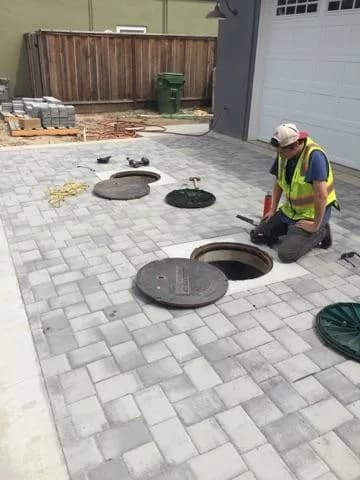 Space-Saving Septic Treatment For Small Lots
Many homesites are considered un-buildable due to their small lot size or location. In other words, your site may be too small to fit all the required services, such as septic treatment. Due to the small lot size, you can't build your dream home. If you live in Santa Cruz County on a "postage-size" lot or own a beautiful boutique winery in Napa or Sonoma Counties in California, you understand the small lot issue. Are you in need of a traffic rated septic system for your property? If so, give our skilled septic treatment experts a call today.
Small lots can create a big problem when you are ready to build your new home, or you just want to upgrade.
One option is to place your septic tank under your driveway. The Hoot Septic Treatment System can be designed and reinforced to provide a safe place for a driveway or just regular parking. By utilizing Hoot's "all in one" compact design and its solid concrete construction. Engineers can design a complete, County-approved site plan that allows cars and trucks to drive and/or park upon them.
All Hoot Tanks are watertight, suitable for moderate and traffic loading conditions, and environmentally friendly. Because of our standard and customizable options, these tanks are the optimal choice when municipal sewers are not an option.
Available features include grade rings, risers, lifters, and pumps to best fit our project.
Recent Articles & Tips
When To Get Septic System Repaired

Your septic system goes underground, so it can be easy to overlook any problems it's experiencing, but that doesn't mean its problems aren't serious, nor does it mean that you can't detect problems w […]

What Causes Septic Backup

You might know the most common sign of septic system problems: the presence of wastewater in your home or yard. But do you know the reasons for your septic system backing up? There are a number of re […]