Hoot ANR (Advanced Nitrogen Reduction) Septic Treatment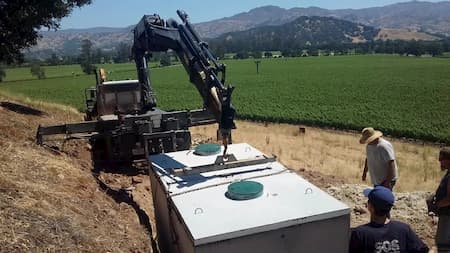 Hoot ANR (Advanced Nitrogen Reduction) Septic Treatment System is the first treatment system tested and certified by NSF to not only meet EPA's Drinking Water Standard of 10mg/L but exceed it.
In addition to our NSF Standard 40 and 245 Certification, we have worked with Baylor University providing sewage and quality data analysis for more than 17 years. To date, Hoot has spent over half a million dollars with Baylor through its Department of Environmental Studies, Baylor Testing, and Certification Program. Similar to their current Wastewater Treatment Research Program.
The Hoot ANR (Advanced Nitrogen Reduction) Treatment System is just one in a series of three septic treatment systems provided by Hoot. These systems perform <10 CBODs and <10 TSS both in the lab and in the field. In addition, we provide two septic technologies: timed re-circulation and maximum Nitrogen Reduction for the most sensitive environments. These advanced septic technologies reduce Total Nitrogen by even more (5.8 mg/L under Standard 245).
In order to provide as much necessary off-gassing of nitrogen as possible, Hoot utilizes a patent-pending process by adding a carbon-based food additive. The process is managed by a computer controller that monitors system flow. This will ensure that proportional dosing is based on need. In addition to providing reliable Nitrogen Reduction performance for a range of TN influent strengths from 35-75 mg/L.
Designed for the Most Sensitive Environments. Hoot ANR (Advanced Nitrogen Reduction) is best suited for sites that have little or no organic content separation from the seasonal high-water table or groundwater. Because of the level of performance, you can expect the highest nitrogen reduction per dollar and ensure a healthy aquatic and drinking water environment.
It's the only treatment system producing effluent that meets and exceeds Federal Drinking Water Standards.
Are you interested in a new Hoot ANR Treatment System for your property? If so, give our skilled septic treatment pros a call today.
Applications
Single Family
Multi-Family
Nitrogen Sensitive Environments
Performance
98% Reduction CBODs
99% Reduction TSS
85% Reduction Total Nitrogen Fecal <100 w/UV Disinfection
Sizes
Recent Articles & Tips
When To Get Septic System Repaired

Your septic system goes underground, so it can be easy to overlook any problems it's experiencing, but that doesn't mean its problems aren't serious, nor does it mean that you can't detect problems w […]

What Causes Septic Backup

You might know the most common sign of septic system problems: the presence of wastewater in your home or yard. But do you know the reasons for your septic system backing up? There are a number of re […]